As I mentioned last year, I bought a two drum timpani set. After paying them off, I set out to find the two outer drums to make it a "complete" set of four. Turns out, this was not as easy as I thought it would be. If you are patient, it is not too difficult to find a pre-owned set of two timpani or four timpani and sometimes even five timpani and in good or excellent condition. However, finding pre-owned individual drums isn't easy, and no one seems willing to split up sets. Even more difficult, I wanted to find the outer drums in the same make, appearance, and similar condition as the two drums I already had.
---
Back in July, I did buy a 32 inch drum from Wichita, the same music store where I purchased the other two. It too arrived by freight. As with the 26″ and 29″ drums, I had them replace the rim mounted gauge with a pedal mounted gauge. The original 26″ and 29″ were made in the early 2010's; probably about 5 years old when I bought them. This 32″ drum is early 2000's. The condition of the drum is about the same; maybe with a few more scuffs than the others. There was a cosmetic difference as well, the rim was the older style chrome instead of the powder coated dark bronze color. I asked about this, and Wichita told me they had a rim in their "bone yard" of used parts, so they swapped out to a matching rim.
The end result, the drum pretty much looks like it belongs with the others, so I'm pretty happy about that. Tuning the drum was a breeze. This was the 5th timpano I've ever had to tune, and I've pretty much gotten the hang out it I think. I also had some lessons learned from before. I asked Wichita to finger tighten only and I used the teflon spray on the bearing edge first thing. I also re-turned the other drums a bit, as I had them tuned a little two low.
To my surprise, I eventually noticed that there are two minor differences between this drum and the other two. The base knob on the 32″ is shinny and the hoop has chrome lugs for the tension rods.
---
I asked Wichita about finding a 23″ drum as well. They did not have one, but said they would look for one. I found one on my own though.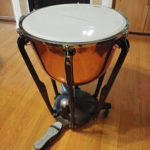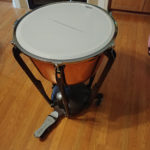 This drum arrived yesterday, via UPS rather than freight. I think it is the same age as the 32″ drum, early 2000's. This drum will be a little more of a project. Since I bought this drum from an individual rather than a store, I need to take care of the "extras" myself. I looked into buying a powder coated rim, and it turns out they are pretty expensive and take a fairly long time to get from production.
Turns out, it is cheaper just to have existing rim powder coated to match the others, so that's in progress… Wichita is helping me with these parts.
I removed the rim gauge from the drum (which was missing the 'G' index anyways). I am waiting for a pedal tuning gauge to arrive. I'll need to drill a couple holes into the shell to mount the gauge. I am a little concerned about this, but I have had to drill into copper before for ham radio. Plus, my dad will help me, even though he doesn't know it yet.
Another problem I realized afterward, I am going to have to replace the head. The head was on pretty tight during shipment, and it was pretty stretched when I removed the rim. I don't think I can reuse it now.
The drum was pretty dirty, like it had been sitting in a garage for a long time. It looks pretty good now that I have cleaned it up. In fact, I think it might be in better condition than the other three timpani: It is shinny and pretty.
I'll post more about this as I finish up the work.
---
I'm realizing more and more how much I love hand-drumming. It started with my Bongos and really started enjoying it when I got my Cajón. I've also since found a used Meinl Djembe and a new Doumbek. I really like the Doumbek, but the Djembe and I are still getting to know each other…
The big prize I found last month is a Quinto and Conga. I got a steal of a price on these. They are old fiberglass Meinl Marathon drums (Marathons are all wood now). They sound awesome and look really good after some cleaning. Not really my favorite color, but that's okay.
I really have no idea how old these drums are. I wish I did…
---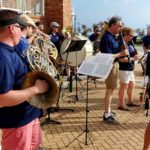 I have a lot going on in my music schedule now. So much so that I am actually getting a little anxious.
It was a fairly boring summer, unfortunately. I thought maybe I would play in the PSC Summer musical, but they did not need a Percussionist (other than the Drummer) for that show. For Pensacola Bay Concert Band, I took on some additional band duties starting after the May concert, although I am not really talking about it much. For the Pensacola Civic Band, after the Spring and Memorial day concerts, I played bass drum at a couple of Blue Wahoos baseball games. I don't normally play concert bass drum, but it was fun, despite being quite hot.
I was planning to re-join for the Civic Band's fall season last month. However, I got asked to do two musicals. One is the PSC Fall musical, which conflicts with the Civic Band concert in November. I've already picked up the music for that musical. With some disappointment, I have to sit out of Civic Band this season. I will be playing timpani and mallet percussion for that one. The other musical is the Gulf Breeze High School musical in December. I am a little more nervous about this one, because I will be the Drummer rather than the Percussionist, but I am confident I will be fine on drum set; I've just never done it before. Once upon a time, I never played drums and mostly played only mallet percussion! I plan to re-join the Civic Band in November after the PSC Musical and perform in their Christmas concerts.
Back about Pensacola Bay Concert Band… my wife Julie has joined the band this cycle and will play in the November and December concerts… playing Cello! The band leadership met earlier this year, and we talked about allowing some string instruments to join the band. We already had a string bass, and there are some bands out there that have cellos (no… really…). I helped pick out music for cello (euphonium, bassoon, and bass trombone parts) and have been helping Julie with the music. I also transport and tune her cello, as she arrives at rehearsal a bit later than I do. I am also now the "Percussion and String" section leader; although I am still learning what all that means.
The Pensacola Bay Concert Band has a … splinter group… called the Pensacola Bay Wind Ensemble. It is a small group of about a dozen that perform at nursing and retirement homes, but they'd never had percussion in the mix. I'd been asked a few times if I could play some drums with the group for Christmas. I came to one of their "mini-concerts". After seeing how it affected some of the residents, I decided to go ahead and join, as much as I am able. For simplicity, I am playing my Cajón with a pick-up mic and amp, with a bass pedal and some accessories (triangle, foot tambourine, caxixi, and various brushes). I've only played in one mini-concert so far, but I'll play in another this weekend. Each one is about 45 minutes.
I have some music, but I am doing a bit of improvisation right now, so it is kind of fun with a little bit of "umm… I'm not sure what to do…"
So far, from today until the end of the year, I am scheduled for 27 performances (14 being for the Ensemble). I feel like my schedule has gotten away from me a bit.
Funny thing is, I kind of wish I had somewhere to casually play my timpani on Sundays! Maybe… soon…?
---
Someone else likes drums too!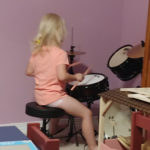 ---
Update for October 16, 2018. Parts arrived today. The 23″ hoop has been powder coated, I was sent a 32″ gauge (which seems to be exactly the same as a 23″ gauge).
---
Update for October 17, 2018. With a little help from my dad, I got the timpano finished… except I misplaced my stickers…