I mentioned this briefly on my Percussion page, but I rejoined the Pensacola Civic Band this month. It was not really all that expected. A few years ago, I got wind that they were shorthanded in their percussion section, but when I emailed, I was told my help wasn't needed, so I just continued on. Last year, I did two musicals at the college. One of my previous directors ran into my mom in the store last month and mentioned seeing me at the musical and asked if I had considered rejoining the civic band. I emailed and said to come in. Well, I thought I was on the "waiting list", and I'm on the college's payroll. Ah well.
So now I am in two bands: The Pensacola Bay Concert Band on Monday nights and the Pensacola Civic Band on Tuesday nights.
One big difference was sight-reading night. As a section leader (in PBCB), I always try to get the percussion music in advance and sort out all the parts and divide them to the players and send out lists so everyone knows what's coming and what to play. It is actually a pretty time consuming process. I go through every part in every piece. I think I must be the only percussion section leader in the world that actually does it. I might just be obsessive, but it does mean a lot less running around on the first night of rehearsal. On the other hand, most section leaders are probably thinking there are plenty of rehearsals to sort all that stuff out. The sight-reading nights at the civic band are fast-paced. They run through every song back to back and don't stop. It is a bit of a rush when you don't know what instruments you need or where they are ever stored.
---
My Christmas present last month was a 5-piece drumkit. I already had a cocktail drumkit, as I actually prefer to stand, but last year I was actually asked to do a drumkit gig, and I shied away from it because I didn't own my own to practice on. In an effort to be more rounded, I decided to get one. It came with a birch snare, but I swapped that one out with the hammered steal snare I already had. The birch snare sounds better for a concert band setting anyway in my opinion.
Although a lot of the instruments I own I've personally repaired and/or restored, some may notice that a lot of my drums and percussion instruments are from an unfamiliar brand. I have been asked a few times. Although a lot percussionists have a lot of opinions about brands, I am not too picky about such things, so long as the drums meet my expectations. I started using this Trixon Drums USA brand from Jim Laabs Music Store when I got my vibraphone (they also sell on Amazon and eBay). My understanding is that the music store itself owns the brand name, so perhaps this might be considered a store brand. In much the same way that Liberty I is Steve Weiss brand, I suppose. Over time, got my cocktail drumkit, snare, timbales, mark tree, and field drum from them.
I also got this 5-piece from them. I will be using this drumkit in an upcoming concert in May. I've been happy with their instruments (paired with my choice of batter head). In the last shipment from them, I received this handwritten note: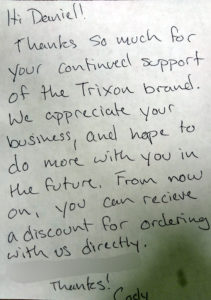 It is always nice to be appreciated as a customer, and I thought I would share that.
I've been working on this 32-inch vintage Ludwig concert bass drum, which I will mention in the next post.